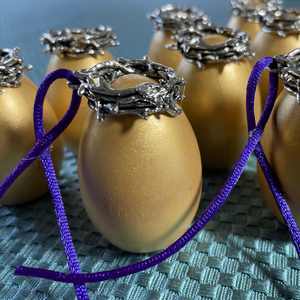 These Wooden Easter Eggs are simplistic in their design of focus on Christ.  The eggs are wooden to symbolize the wood of the cross.  Each egg is hand-painted gold and topped with a metal crown of thorns and purple ribbon, symbolizing the crucifiction and resurrection of Christ.  Display with or without the purple ribbon.
Display one or as a grouping, or pair with our Red Christo Anesti Wooden Easter eggs.  
Approximately  2 inches.