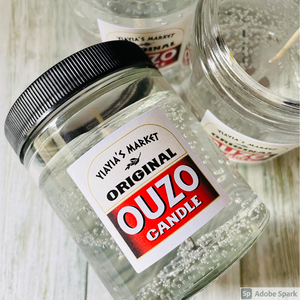 Bring the wild beauty of the world-famous island of Lesvos' Ouzo to your home with this distinctive licorice (anise) scented ®️Original Ouzo Candle.  
This candle is reminiscent of your favorite Greek drink.  Inhale the rich culture of this world-renowned liquor scented candle, let its scent transport you to your favorite taverna in Lesvos.  Let your celebration begin!  Opa!
This Yiayia's Market original, Greek hand-poured in the USA candle is made in my small home studio by my father and I.  Yiayia's Market was the first to bring you this authentic Greek hand poured candle.  It was one of our original Yiayia's Market items. 
* Gel candles burn hotter than traditional wax candles. Never leave candles unattended.