Yiayia's Most Popular Items
Yiayias Do It All
Inspired to share my Greek heritage, I started this shop to help bring an authentic taste of Greece into your home. I answer every email, pack every shipment, and make every social media post personally. I want to ensure that each customer is treated just like family sitting at my dinner table each Sunday.
Papou's Rice Pudding
In this blog I share my Papou's recipe for our family's rice pudding.  It's a simple and delicious treat for the whole family.
CLICK FOR RECIPE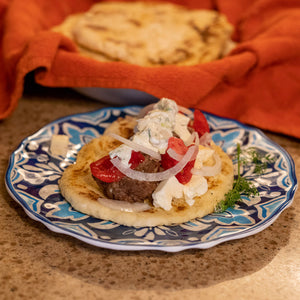 Yiayia's Classic Pita Bread Recipe
If it ain't broke, don't fix it.  In this blog I share a classic recipe for my soft and fluffy pita bread that's been a family hit for decades.  
CLICK FOR RECIPE
Baklava Sundae
This is a modern twist on one of Greek's most famous desserts, Baklava:  vanilla ice cream, chunks of nutty filo, honey and chocolate.
CLICK FOR RECIPE
I got an evil eye candle and greek seasoning. Both are awesome. I highly recommend and the customer service is amazing! Fast shipping, too!

Annette B.
The Greek salad dressing is so good. Received the package super quick. Was able to make the dressing, very easy and I was able to use it all week on my salads. I will be getting more !!!!

Albert M.
The Evil Eye Candle and The Aegean Sea candles smell amazing!! And Violet is amazing to work with!

Katie P.