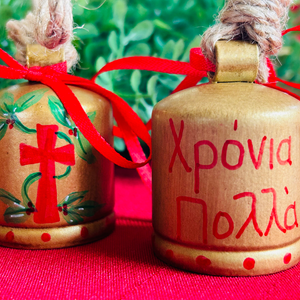 Introducing our enchanting Christmas Bells - the perfect addition to your holiday festivities!

Our handpainted Christmas bells are the perfect addition to your Greek Christmas decor with  Xronia Polla (Χρόνια Πολλά) written in Greek, meaning Many Years, and a cross with leaves on the opposing side.
Hung on a thick jute cord and embellished with a simple red ribbon.

Evoke the spirit of the season with these beautifully crafted Christmas bells that will fill your home with the joyful jingle of the holidays.
 Our Christmas bells are exquisitely designed to add a touch of elegance and charm to your Christmas decor.

Whether you're looking to enhance your home decor, spread holiday cheer, or give a thoughtful gift, our Christmas bells are the perfect choice.  

Make this Christmas season memorable with the timeless jingle of our Christmas Bells. Order yours today and let the festivities begin!
Painted  in my small home studio.