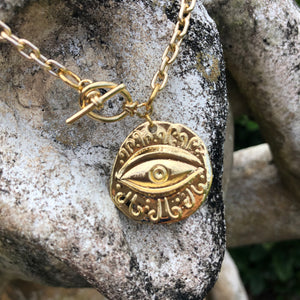 This Evil Eye Pendant necklace has a gold medallion with the mystery of the evil eye superstition.  
Necklace is 18 inches long on a stainless steel gold plated chain with a front close toggle clasp.
Handmade in Athens by Filitsa.

Yiayia's Market in collaboration with Taste and Art of Greece are honored to be USA distributors of Filitsa products.  A Yiayia's Market Exclusive.