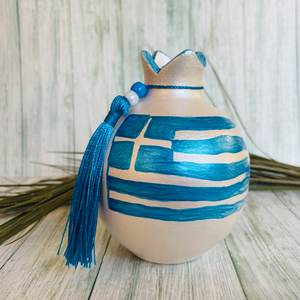 Painted with the two colors of the Greek Flag, and simply adorned with a blue tassel and blue & white beads representing the Greek Flag.
This Made in Greece pomegranate, and hand painted by me in my small home studio, is a beautiful tribute to our Greek Flag and Greek heritage.
Pomegranate is painted in a relaxed casual flowing paint style with my signature pearlescent paint.  
Pomegranate is approximately 4 inches tall.  No two are exact as they are hand painted.