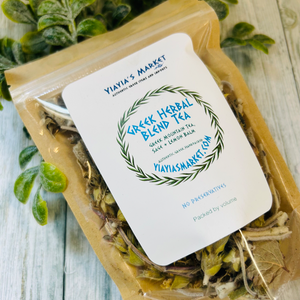 Our Greek Herbal Blend Tea is made with organic, natural, wild, and handpicked herbs from the mountains in Greece.
The rich scents and traditional flavors of the Greek countryside are now available in the USA.
Greek Mountain Tea
Sage
Lemon Balm
This high quality loose leaf tea can be re-stepped up to two times, after its first brew.  That means, each bag can make many cups of tea!  You decide how strong you would like each cup.
Hand packed by volume in the USA with herbs grown and hand harvested in Greece.