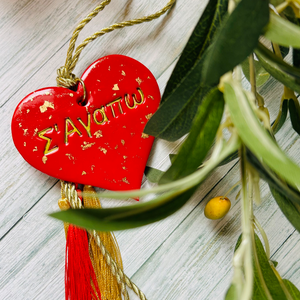 Each heart is handmade with clay, flecked with gold and adored with wooden beads, tassels.  The hearts is imprinted and says S'agapo (I Love You)
Hang them on a wall, cabinet drawer pulls, drape them over a  decor piece already in your home or simply lay them on a table to bring your love of Greece to your home.

These Hellenic Hearts aren't just for Valentine's Day!  These hearts show your love of Greece and your Greek heritage!  They make wonderful Name Day, Birthday, Anniversary or just because gifts all year long.
*A Yiayia's Market Exclusive Design. 
 Hearts are approximately 4 inches across and hang 14 inches long.
please note - as these are handmade items, product may vary slightly from photos show, as each piece is unique, made of clay and is fragile.