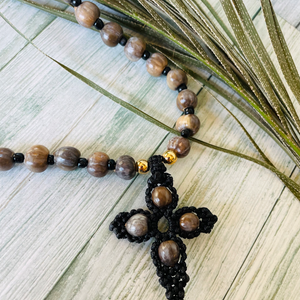 Job's Tears Prayer Rope 
The Name, Job's Tears, Derives From it's Tear, Droplet-Like Shape.
It is said that the plant sprouted out of the tears of the Holy Virgin Mary when she was crying by the cross of her son, Jesus.
The prayer beads are used to count the Jesus prayers said during the day. The short version of the Jesus prayer is: "Lord Jesus Christ have mercy on me, a sinner" 
The Prayer Rope has 40 beads with an additional 4 beads in the cross.
Made by Calliope of Thessaloniki, who makes these very same Rosary for the Mount Athos Monestaries.  We are honored and humbled to carry them here at Yiayia's Market.