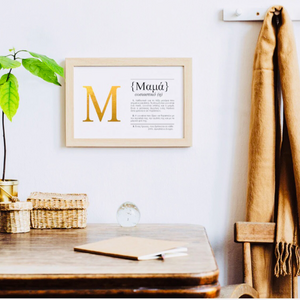 GREEK MAMA (ΜOTHER'S DAY) DEFINITION FOIL PRINT
Μαμά: Χαϊδευτικό για τη λέξη μητέρα που σημαίνει «αγάπη». Τη στιγμή που γεννιέται ένα παιδί, γεννιέται επίσης και η μαμά. Είναι ο φύλακας άγγελος ενός παιδιού όσα χρόνια κι αν περάσουν.
A timeless keepsake gift that describes the meaning of an amazing mother. Suitable for mom's birthday, Mother's Day, new mom Baby Shower Gift, or the perfect gift for any occasion. Let's be honest - mom's deserve a gift any time of the year.
*Frame will be either Black or White and not necessarily as shown in photo. 
Made in Australia by Greek designer Agni.