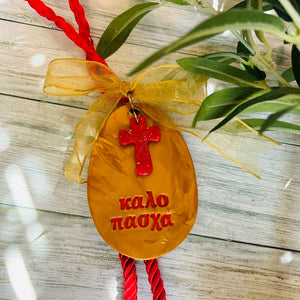 This stunning Marbled Gold Easter Egg is hand imprinted with Καλο Πάσχα  (Kalo Pascha) and has a red cross, symbolizing the blood of Christ.
It hangs on a braided ribbon with wired cord.  Adorned with a gold ribbon.
This makes a very special Easter Gift.
Made in my small home studio in clay.
Approximately 4"x2 1/2"
Hand made items vary from piece-to-piece and have slight variations.