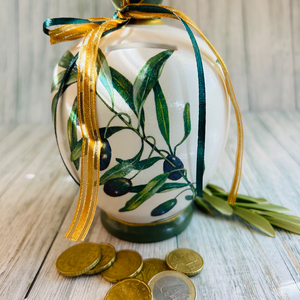 Our new Money Boxes (piggy banks) are just in from Greece.
These ceramic jars are adorned with olives and olives leaves and ribbons.

There is a slot to deposit your coins and an opening on the bottom to remove them when the jar is full.
Approximately 5 1/2" X 3 1/2".
The oldest known money box dates from 2nd century B.C., found in the Greek colony Priene in Asia Minor, and features the shape of a little Greek temple with a slit in the pediment. Money boxes of various forms were also excavated in Pompeii and Herculaneum. A biblical reference to a money box can be found in the Old Testament, in the second book of Kings.
Made in Marathon, Greece by Valia.