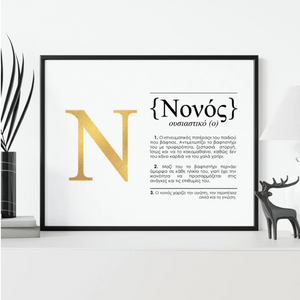 Νονός: Ο «πνευματικός πατέρας» του παιδιού που βάφτισε. Αντιμετωπίζει το βαφτιστήρι του με τρυφερότητα, ζεστασιά στοργή. Ίσως και να το κακομαθαίνει, καθώς δεν του κάνει καρδιά να του χαλά χατίρι.

A timeless keepsake gift suitable as an Easter Gift, Christening Gift for your Godfather, or any other occasion from you or the godchild for their Greek godfather.
Please note this product is a hand made print that will be shipped flat with a cardboard backing (no frame unless framed option is selected).
*Option to order Framed.  Frame will be either Black or White acrylic and not necessarily as shown in photo. 
 Made in Australia by Greek designer Agni.