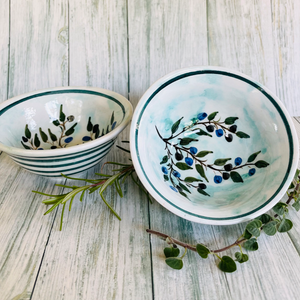 These beautifully rustic hand molded and hand painted Mini Olive Branch Dipping Bowls are the perfect size for olive, nuts and dipping sauces.  Also may be used as trinket dishes.
Food safe.
Bowl is made in the workshop in Samos and operates with 4 generations of family potters.
Please note, due to the handmade nature of these items, sizes, glazing and colors will vary slightly.  
Made in Samos, Greece by 90 year old Matriarch Patra and her family.
 Dimensions (approx.)
Diameter: 9,5cm  (3.74 inches)
Height: 4-4,3 cm  (1.57-1.69 inches)
Volume: 120 mL (4 oz)