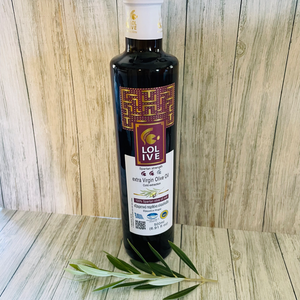 LOLIVE Olive Oil is the King of Olive Oils!
Our Spartan Strength Extra Virgin Olive Oil is cold press extracted.

Cold extracted means the temperature has to be 12 degrees Celsius. Olives are the  Koroneiki (the King of Olives) variety found only in Peloponnesus, and no where else in the world.  Olives are grown in the Laconia region of the Peloponnesus.
Koroneiki olive oil is high in polyphenols.  Research has shown that polyphenols may have a range of health benefits.
This Olive Oil is certified in Greece as to the origin of the olives and processing.
500ml (6.91 fl oz)