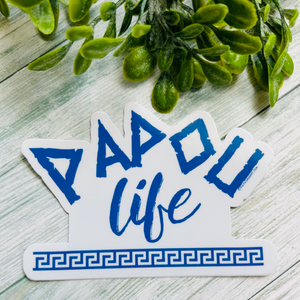 Our Papou Life Car Decals are the perfect representation of Papou Life.
Not only can you use the decal for display on Papou's car window, but you can use it as a sticker for his calendar, IPad, computer or whatever else he can think of.
Decal is approximately 3 1/4" x 4" and is made from high quality premium waterproof and weatherproof vinyl.  May be applied to most smooth surfaces.  Not dishwasher safe.
Look for our other © Papou Life items coming soon! 

To adhere the decal to car glass:
Clean the area thoroughly with rubbing alcohol or soap and water. Do not use a glass cleaner because it will leave a residue behind that will prevent the sticker from adhering.