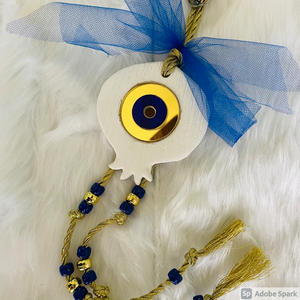 Gouria are an important part of Greek culture, especially during the holidays.
They are meant as good luck charms, and when hung in the home, they are thought to bring prosperity, health and good fortune.
A Pomegranate Gouria symbolizes fertility, good luck and abundance.
Pomegranate with mirrored evil eye measures approximately 3" x 3" and hangs on a short gold cord with a charm that says "Health, Peace and Happiness", beads and tassel.  Hangs approximately 18 inches.
Imported from Mykonos, Greece