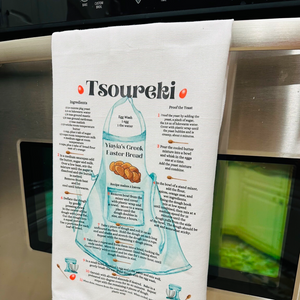 This very special Tsoureki Recipe Towel has our family Tsoureki recipe on the towel printed on Yiayia's apron, with red Easter eggs, stand mixers and the recipe sections are divided by wooden spoons.
Close your eyes and and think about the amazing aroma of Tsoureki with its orange scent, and spices. 
The perfect gift for the Tsoureki lover or someone who wants to learn to make Tsoureki.

You know Yiayia loves to hang decorative towels just  for "looks" and for you to use the "other" towels in her kitchen!
100% Cotton

Towel is approx 20"x28"

Has a hanging hook in the corner

Machine wash cold, tumble dry low

Do not bleach
Towel designed by me in my small home studio.
Made in the USA.