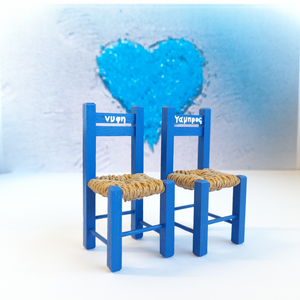 Our one-of-a-kind Greek Wedding Chairs are in miniature form.
The chairs have hand woven rush seats, are painted Hellenic Blue and Bride & Groom are written in Greek on one of each of the chairs in the set.
There is a magnet on the back give you the option to display them on your refrigerator.
The chairs are approximately 3" tall and 1 1/4" wide.
This set makes a very special and heartfelt bridal shower or wedding gift. The set comes beautifully gift boxed. 
Made by Purnell of Crete.