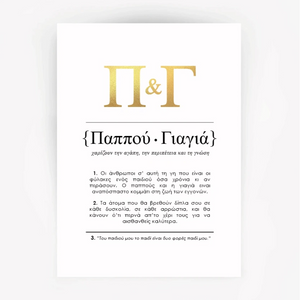 Παππούς και Γιαγιά: Οι άνθρωποι σ' αυτή τη γη που είναι οι φύλακες ενός παιδιού όσα χρόνια κι αν περάσουν. Ο παππούς και η γιαγιά ειναι αναπόσπαστο κομμάτι στη ζωή των εγγονών.

A timeless keepsake gift describing the meaning of amazing grandparents. Suitable as a special Christmas, Grandparent's Day gift or any other occasion from you or the grandchildren for their Greek grandparents.  The perfect way to tell them they are becoming first-time Grandparents!
Please note this product is a hand made print that will be shipped flat with a cardboard backing (no frame unless framed option is selected).
*Option to order Framed.  Frame will be either Black or White acrylic and not necessarily as shown in photo. 
Made in Australia by Greek designer Agni.