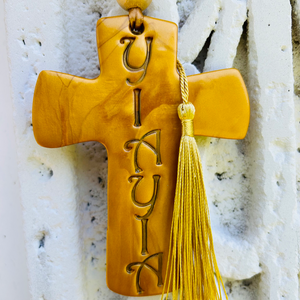 All Yiayias love gifts with their special grandmother name.  These hanging Yiayia crosses are handmade in clay in my small home studio.
This cross makes a treasured and heartfelt gift for the Yiayia in your life.  It's also a great way to tell her that she's becoming a first-time-Yiayia. 
The crosses coordinate with every Greek Yiayia's decor.  They are a marbled gold color and come adorned with tassels and wooden beads.
Approximate cross size 4 1/2 inches long, 3 inches across, and it hangs 10 inches long.
*As each piece is handmade, there maybe slight variations from piece to piece.