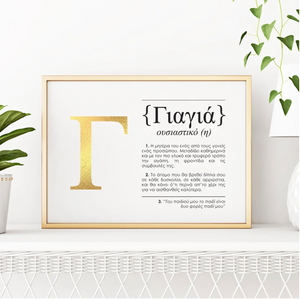 Γιαγιά: Η μητέρα του ενός από τους γονείς ενός προσώπου. Μεταδίδει καθημερινά και με τον πιο γλυκό και τρυφερό τρόπο την αγάπη, τη φροντίδα και τις συμβουλές της.

A timeless keepsake gift suitable as a special Birthday, Mother's Day gift or any other occasion from you or the grandchildren for their Greek grandmother. A great way to tell the first-time-Yiayia that she's going to become a grandmother!
Please note this product is a hand made print that will be shipped flat with a cardboard backing (no frame unless framed option is selected).
*Frame will be either Black or White and not necessarily as shown in photo. 
Made in Australia by Greek designer Agni.