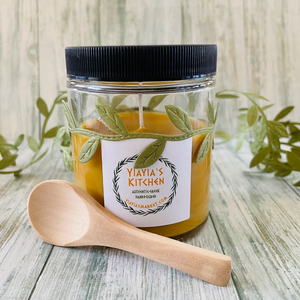 What scents bring back fond memories of being in Yiayia's Kitchen?  Is is Koulourakia Baklava, Galatoboureko, Tsoureki, Phyllo or Halva? Or of Yiayia drinking coffee all day?
Did she teach you to bake with her, or are her recipes a secret?
No matter how much the same or different we all are, all Yiayia's cook with love.
Light our Yiayia's Kitchen Candle, and be whisked away to your childhood when Yiayia spoiled you with her kitchen specialties.
This candle makes a very special gift to your Yiayia to show her how much the special bond you developed in her kitchen means to you!
The perfect Mother's Day and Birthday gift!
Candle is hand poured with a proprietary blend of coffee and dessert scents in my small home studio.
-8 ounce candle in a glass jar with a black lid and mini wooden spoon perfectly sized for her grandchildren's small hands.